Body Sleeve Machines
Page Detail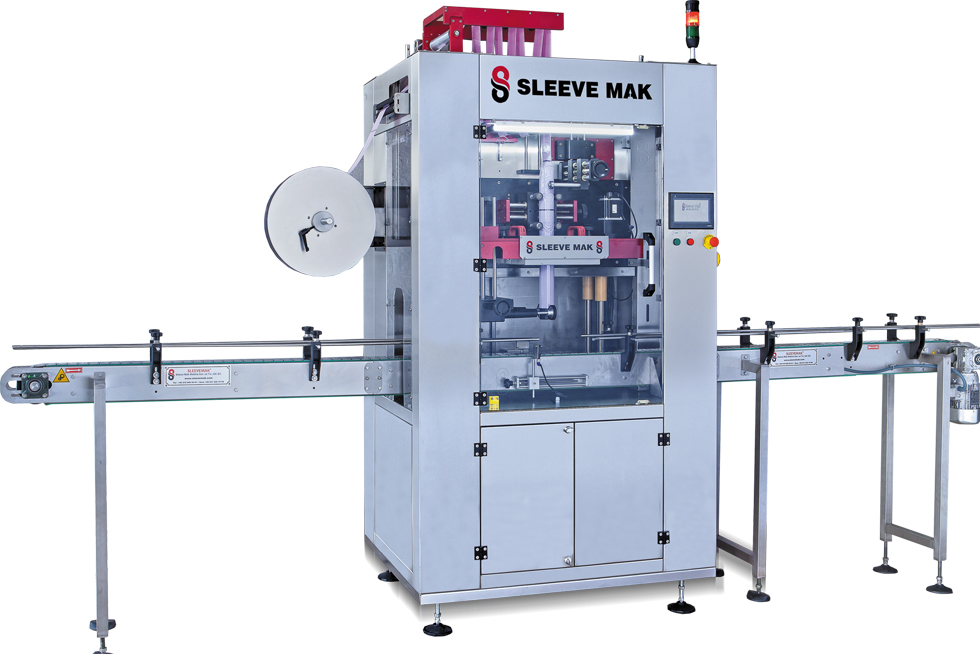 Body Sleeve Machines
Automatic Sleeve Label Applicator Machine
Our Automatic Sleeve Applicator SVM-G series is specially designed for applying full body sleeves on diameters and lengths.Our single lane machine is made of the highest quality materials with the latest technology in our field.Automatic Sleeve Applicator SVM-G series is designed for high volume production rates and is a perfect solution for demanding industries including food and beverage, pharmaceutical, nutraceutical, cosmetics , health and beauty, chemical, and other manufactured goods
Our Machines can work with products made of PP , PET, Glass , polycarbonic , metal , etc…..
Our outstanding designs increase your production rates day and night .
Our Machine can be controlled from LCD touchscreen that gives the user good interaction with the machine.
Technical specifications :
Our Main construction of the machine made from Stainless Steel AISI304, other parts made from hard anodizing aluminum that has high wearing resistance.

Sleeve label applied on products automatically through linear line system.

The machine can apply sleeve label on glass , plastic , PET , PE and metal products.

The machine can apply both PET and PVC sleeve labels.

The machine can work on sleeve labels with thickness from 45 to 80 µm

Except for mechanical adjustments, all the machine can be controlled automatically through PLC system (OMRON).

The machine can be controlled through LCD touchscreen monitor (OMRON).

With range 40mm to 300 mm the length of the products can be adjust by moving the main block upwards and downwards automatically.

The rotary cutting system working with Servo motor using cutting blades.

The rotary cutting system can be easily assemblied and disassemblied also the speed of the blades can be controlled through the monitor.

Our machine can work on Product´s diameters with range from Ø40 mm to Ø150 mm with suitable equipments ( guide and blades´ box ) you can change easily between the products by changing the related equipments.

The servo motors (OMRON R88 model with moiton control specification) used to drive the sleeve label pulling system , the shooting system and the rotary cutting system with total number 4 pcs. of servo motors.

With sleeve label´s stretching system the label can be cutted accurately.

The roll of the sleeve label can be changed fastly.

The Technical adjustments and setting for different types of products can be saved on the memory of the PLC system.

Related to the products´ dimensions the machine capacity ranges from 4000 Pcs/hr to 8000 Pcs/hr with maximum capacity 10000 Pcs/hr.

At the entrance of the machine when there is no product the machine automatically enter the standby mode.

The chain of the conveyors made from INOX (model 82.50 mm)

Adjustable side barriers to control the motion of the products.

The emergency stop button can be found on the machine main panel in a reachable place.

Saftey switch sensors to stop the machines if the doors opened.

All the sensors are ZICK brand

The machine contains 2 reductor motors

CE certificated.
---
Share
| | | | | | |
| --- | --- | --- | --- | --- | --- |
| Model | Item Diameter (mm) | Energy consumption | Voltage | Dimensions (cm) | Weight |
| SVM-G100 | Ø40-Ø150 | 3 KW | 380 v -3PH | 185x100x225-255 | 600 Kg |
| SVM-G200 | Ø40-Ø180 | 3 KW | 380 v -3PH | 185x100x225-255 | 600 Kg |